Stages of Gum Disease & Periodontal Treatment – Chicago, IL
Keeping the teeth strong and healthy is important to the overall maintenance of the smile, but patients should put just as much care into the health of the gums. The gums act as a foundation for the teeth. If the gums become inflamed or infected, the teeth can lose the stable support they need to function properly. Periodontal disease, or gum disease, is the biggest threat to oral health. As with most oral health problems, gum disease develops in stages, each with its own unique symptoms and concerns. Dr. Robert W. Hessberger offers restorative dentistry treatments to address oral health problems, including gum disease. Here we go through the various stages of gum disease that may affect our Chicago, IL patients, and discuss the types of treatment options that may be best for each phase of the condition.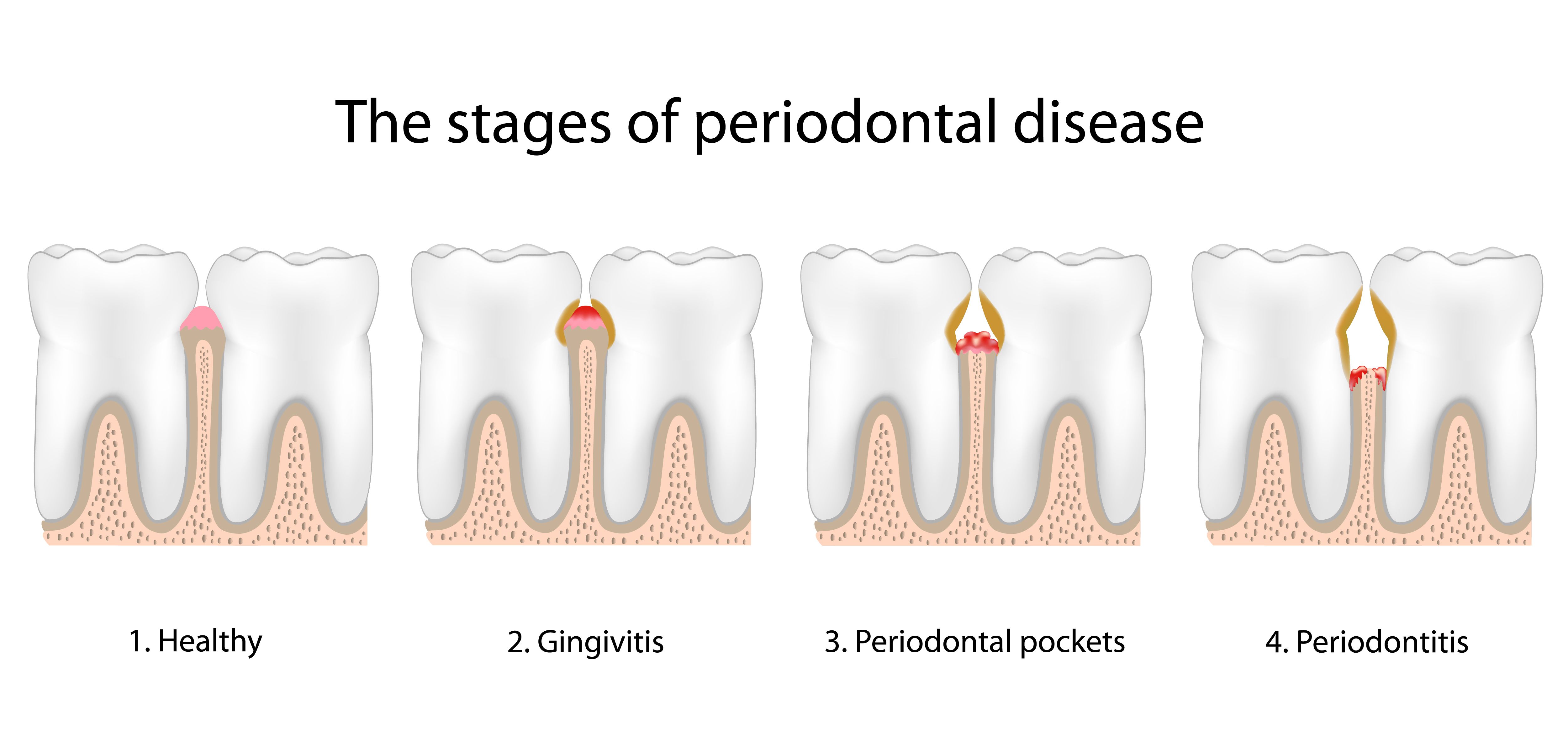 Gingivitis
Gingivitis is the earliest stage of gum disease. Gingivitis is actually a fairly common condition that is not a huge cause for concern, as long as it is treated in a timely manner. Gingivitis develops when bacteria enter the soft tissues by the base of the teeth. Gingivitis does not usually result in side effects that are noticeable to the patient, but it can be diagnosed at a routine dental exam. Dr. Hessberger will diagnose gingivitis if he sees signs of tenderness or inflammation around the gum line. Gingivitis may also cause the gums to appear a darker shade of red. Often, gingivitis can be treated with just a routine dental cleaning. Dr. Hessberger will clean the teeth of any bacteria, plaque, and tartar, which will eliminate bacteria from around the gum line, allowing the soft tissues to heal.
Periodontal Pockets
Gingivitis can be easily treated, but if a patient neglects routine dental cleanings, the condition can also easily progress into something more serious. Without a professional dental cleaning, bacteria will continue to multiply and reach deeper beneath the gum line. This is likely to cause an infection in the gum tissues. The gums will become inflamed as a reaction to the infection and will gradually pull away from the teeth, or recede. As gum tissue recedes, small pockets of space will form between the teeth. These are known as periodontal pockets. Periodontal pockets are dangerous because they can trap food particles and bacteria, both of which further threaten the health of the teeth and gums. Periodontal pockets also compromise the support system for the teeth and can cause them to become unstable. The most common treatment for gum disease that has progressed to the stage of periodontal pockets is a deep cleaning called scaling and root planing. This treatment reaches beneath the gum line to eliminate bacteria and all signs of infection. Once bacteria have been removed, the gum tissues should be able to heal properly.
Periodontitis
Periodontitis is the most advanced stage of gum disease. It is very uncommon for any patient who receives regular dental care to develop signs of periodontitis. However, patients who fall behind on routine dental exams and cleanings may find themselves with the most common symptoms of the condition, which include deep periodontal pockets, oral pain, tender gums, and loose teeth. It is important to treat periodontitis before it leads to tooth loss. Dr. Hessberger typically treats periodontitis with a scaling and root planing procedure. If this does not prove effective in healing the gums and regenerating new gum tissues, surgical treatment may be necessary.
Contact Us
Gum disease can seriously threaten the health and structure of the smile, but with professional dental care, patients can restore the strength of their teeth and gums. To learn more about the various stages of gum disease, and how they can be treated by Dr. Robert W. Hessberger, contact us at your earliest convenience. We look forward to hearing from you!
Related to This