Can Dentures Be Fitted Immediately after Tooth Extraction?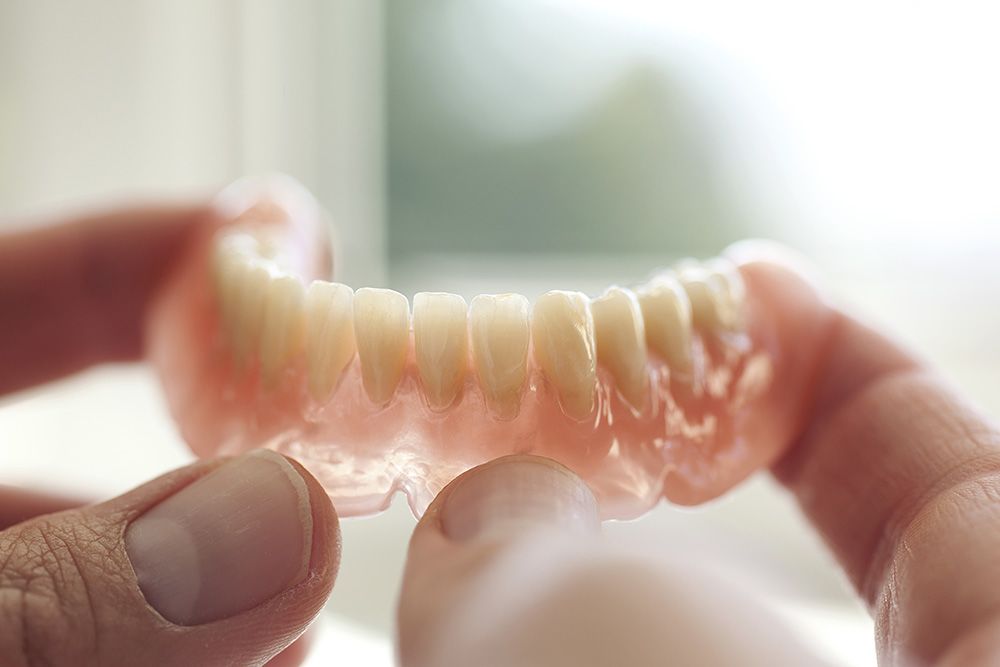 Following the loss of several teeth or an entire arch, a denture can restore your smile and your confidence. Dr. Robert Hessberger offers removable and implant-retained full dentures and partial dentures.
Many of our Chicago, IL, patients want to know if they can undergo tooth extraction and get dentures in the same day. To answer this question, we offer this overview.
Can I Have a Denture Fitted Immediately after Tooth Extraction?
The idea of going without an entire arch of teeth for weeks or months is a worrisome prospect for many patients. Without the aid of dentures, significant tooth loss can make eating burdensome and difficult. Dr. Hessberger offers temporary dentures (also known as immediate dentures) that can be worn after your tooth extraction at our Chicago practice.
Temporary dentures look like permanent dentures. Unlike permanent dentures, which are fabricated from molds or impressions of fully healed gums, immediate dentures are fabricated before tooth extraction. This allows you to be fitted with a denture immediately after your tooth extractions.
Immediate dentures can be worn for two to three months if needed. During that time, your gums will heal. This waiting period allows Dr. Hessberger to create dentures that offer the most precise fit.
Benefits of Immediate Dentures
Temporary dentures allow our patients to continue speaking and chewing with ease and comfort. Like permanent dentures, your temporary prosthetic will take some getting used to. Dr. Hessberger or a member of our team will provide you with tips and advice on how to use and maintain your new prosthetic.
With the aid of your instant dentures, you will never need to appear with missing teeth in public. Gaps in your smile can leave you looking advanced in age and make you self-conscious about your appearance.
The temporary prosthetic also aids in healing by providing gentle pressure to your surgical sites. Having an instant denture can slow bleeding while protecting your gums while they heal. Patients who have sensitive gums can also benefit from instant dentures because the prosthetic places a protective barrier over your gums.
Are There Any Disadvantages to Instant Dentures?
The only disadvantage to having instant dentures is the additional cost, which most patients say is well worth it. Instant dentures are considered an additional cost because additional time and resources are needed to fabricate the prosthetic. Dr. Hessberger will discuss the cost of instant dentures and potential dental insurance benefits.
Patients should remember that their temporary dentures are just that - temporary. Patients should not expect the same level of comfort and durability as they can from a permanent denture.
Schedule Your Tooth Extraction Today
If you need to undergo multiple tooth extractions, you can undergo those procedures with the confidence of knowing that you will immediately be fitted with a temporary denture if you choose. Many of our patients have found that an instant denture allows them to resume everyday activities without the embarrassment of dealing with a row or partial row of missing teeth.
To schedule your tooth extraction or denture consultation, please contact our office online or call (773) 792-5562.
Related to This