Screening for
Early Signs of Oral Cancer
Whether you have known risk factors for oral cancer or simply wish to have the peace of mind that oral cancer screenings can afford, Dr. Robert Hessberger provides cancer screenings as part of biannual cleanings at his Chicago, IL, dental clinic. As with any form of cancer, early detection is key to successful treatment.
Since opening his practice in 1984, Dr. Hessberger has strived to ensure that every patient enjoys the healthiest smile possible. In certain cases, he may even be able to provide emergency dental care for immediate treatments.
Benefits of Seeking an Early Diagnosis
There are many benefits to having an oral cancer screening performed at our Chicago dental clinic, including:
Quick procedure: Dr. Hessberger can perform an oral cancer screening in just a few minutes as part of your biannual cleaning.
Affordability: Oral cancer screenings are often performed for a nominal fee. Furthermore, detecting oral cancer in its early stage may may actually prove more affordable in the long-run. For many late-stage cancers, treatment is both more invasive and more expensive.
Peace of mind: If you have a family history of oral cancer or have other risk factors, oral cancer screening can provide you with a potentially life-saving early warning about a serious health risk. If your test results are negative, you can benefit from the relief of stress that can accompany worrying about oral cancer.
Over 50,000 Americans are diagnosed with oral cancer each year, according to the Oral Cancer Foundation. Part of what contributes to this high death rate is how easy it is to miss signs of the condition. Oral cancer is particularly dangerous because it often does not present symptoms until later stages that are more difficult to treat.
Checking for oral cancer can be scary, but undergoing a screening once a year is easy.
Tools and Techniques Used
You do not need to do anything to prepare for oral cancer screening. The procedure is usually performed during a routine dental appointment and has both a visual and tactile component. Dr. Hessberger will closely examine the inside of your mouth to look for the telltale red and white patches of oral cancer. Using gloved hands, he can then use gentle pressure to check parts of your head, cheeks, jaw, and chin for lumps or unusual nodules.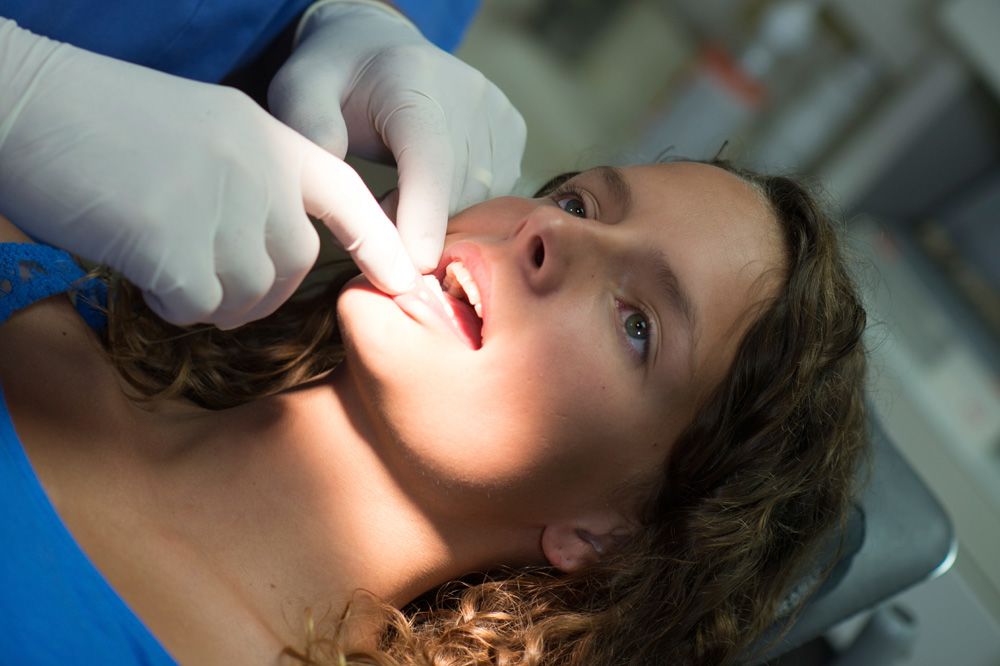 Special tools, lights, and dyes can also help highlight abnormal changes in your mouth. If signs of oral cancer are found, Dr. Hessberger can refer you to a Chicago-area cancer specialist who can perform a biopsy. The sample of cells taken during this minor procedure will be sent to a trusted laboratory to confirm if cancerous cells are present.
Factors that Can Increase Your Risk of Oral Cancer
Many factors can contribute to the development of oral cancer. Age is one of the most notable of these: the average age at diagnosis is 62, according to the Cancer Center. The Cancer Center also notes that men are twice as likely to develop oral cancer.
The main risk factors for oral cancer include:
Poor diet
Heavy alcohol use
Frequent tobacco use
Frequent exposure to sunlight
Previous oral cancer diagnosis
Certain genetic conditions
Family history of oral cancer
Schedule Your Screening Today
Checking for oral cancer can be scary, but undergoing a screening once a year is easy. Getting diagnosed in the late stages is not. Dr. Hessberger can conduct an oral cancer screening examination during a routine dental exam. If you have concerns about the affordability of our treatments, we gladly accept CareCredit® financing to help patients afford treatment. To schedule your next appointment, contact our office online or call (773) 792-5562.