Restore Damaged or Decayed Teeth with Tooth-Colored Dental Fillings
Tooth-colored dental fillings are used to restore teeth after decay is removed. This restorative dentistry treatment will blend in seamlessly with the rest of your smile. Mild to moderate cavities are typically repaired with dental fillings, which can effectively strengthen the structure of the teeth and prevent further dental damage. Dr. Robert W. Hessberger serves the Chicago, IL, community and has over 30 years of experience placing tooth-colored fillings.
Benefits of Tooth-Colored Dental Fillings
Tooth-colored fillings are comprised of a high-grade composite resin material. These restorations offer numerous health-related and aesthetic benefits. Tooth-colored fillings are:
Minimally invasive
Virtually invisible
Biocompatible
Effective for strengthening teeth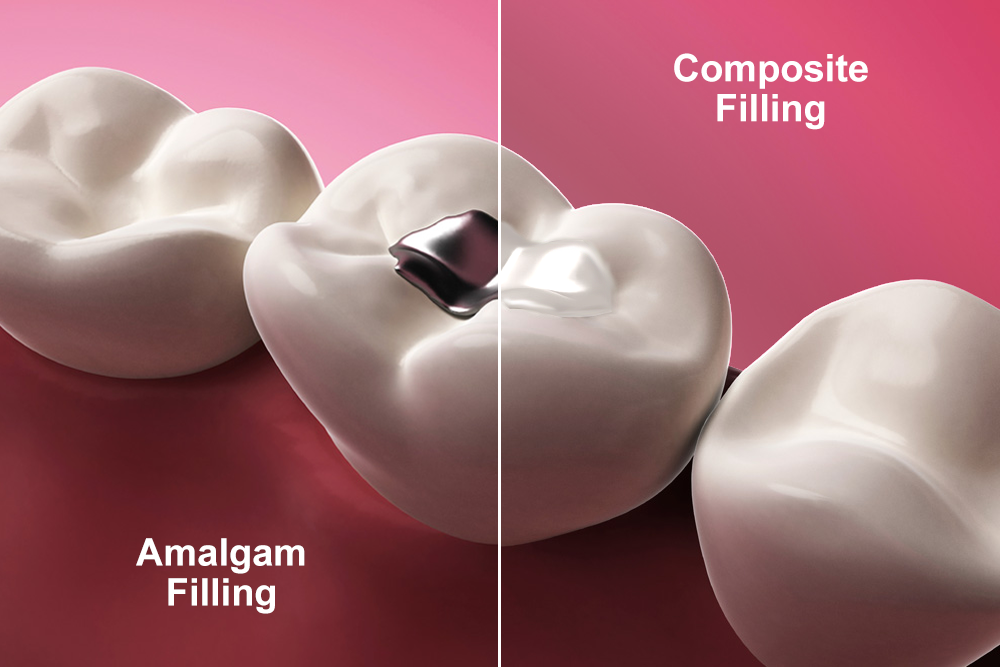 Metal Amalgam Fillings vs. Tooth-Colored Fillings
Traditionally, metal amalgam fillings were used to repair decayed or damaged teeth. Comprised of tin, zinc, copper, silver, and mercury, amalgam is still occasionally used in dentistry today. Because silver fillings do not blend in with the surrounding teeth, they are typically only used for back teeth that do not show when you smile. Because metal expands and contracts with temperature changes, amalgam fillings can actually compromise the structure of a tooth over time. Additionally, placement of an amalgam filling requires more extensive removal of natural tooth structure. Although the FDA has approved the use of amalgam fillings, many people are concerned about high mercury content. For this reason, some of our patients choose to have their old silver fillings replaced with tooth-colored fillings.
Perhaps one of the most significant advantages of tooth-colored fillings is that they are completely metal-free and biocompatible. The result is a beautifully healthy smile.
Composite fillings have been in use since the 1990s. The obvious advantage of composite over amalgam is the fact that composite can be precisely color-matched to blend in with your smile. Because composite does not expand and contract as metal does, a tooth-colored filling actually reinforces the structure of a tooth, rather than compromising it. Composite fillings do not require extensive removal of natural structure, so healthy portions of your tooth are left intact. Perhaps one of the most significant advantages of tooth-colored fillings is that they are completely metal-free and biocompatible. The result is a beautifully healthy smile.
Placing a Tooth-Colored Dental Filling
To determine if a dental filling is the right treatment option for you, Dr. Hessberger will conduct a comprehensive examination. X-rays and scans will also be taken to evaluate the extent of the decay. If it is determined that a filling is appropriate, your treatment will include five steps:
Local Anesthesia: Unless the cavity is extremely small, local anesthesia will be administered to numb the tooth and the surrounding gum tissue to ensure your comfort throughout the procedure.
Tooth Preparation: To prepare the tooth for the filling material, any decay or damaged portions of the tooth must be carefully removed. Once this is complete, a slightly acidic solution called dental etch will be placed to roughen the surface of the tooth so the filling will adhere easily.
Placement of Filling: The putty-like composite resin will be applied to fill in the void left behind by the cavity.
Light Curing: Once the filling is in place, it will be hardened with the use of a special dental curing light.
Final Adjustments: Your new restoration will be carefully shaped and molded to fit precisely with your bite. Any rough edges will be smoothed out, and final adjustments will be made.
Maintaining Your Dental Fillings
To properly care for your dental fillings, it is important to attend routine dental examinations and cleanings. Not only will this help safeguard your new restorations, but it will also promote excellent oral health and prevent minor issues from escalating into serious problems. Our team will help you develop an at-home oral hygiene regimen that will keep your smile healthy between visits.
Schedule a Consultation Today
If you have a cavity or a damaged tooth, a dental filling could be a solution for you. To schedule an appointment with Dr. Hessberger, contact us online or call our office at (773) 792-5562 to speak with a member of our team.